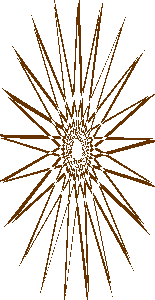 1975:

Disneyland's Mission to Mars opens in Tomorrowland. Designed in cooperation 

with NASA, the show replaces Flight to the Moon (opened since 1967). Guests 

enter a viewing area known as Mission Control, which is modeled after a typical mission control center 

featuring seated Audio-Animatronic "technicians" whose backs are to the audience. Facing the audience is 

an Audio-Animatronic named Mr. Johnson who hosts the show with film clips about space travel. After the 

pre-show, guests board their spacecraft - a circular theater with stadium-like seating featuring circular flat 

screens on the ceiling and floor. It is here they experience a trip to Mars.

Disney's live-action adventure feature Escape to Witch Mountain is released. Two 

mysterious orphan children (played by Kim Richards & Ike Eisenmann) with extraordinary powers are chased 

by a scheming millionaire (Ray Milland). A cynical widower (Eddie Albert) helps the brother & sister "escape 

to witch mountain."


2003:

Columnist Mike Thomas describes his trip to the Magic Kingdom 

to escape the current realities of war in an Orlando Sentinel article titled "Ta-da! Disney's magic makes war disappear."

The Lizzie McGuire episode "The Greatest Crush of All" 

debuts on the Disney Channel.

Piglet's Big Movie, an animated film produced by DisneyToon 

Studios and released by Walt Disney Pictures, premieres.

1927:

T
he 
Alice Comedy
Alice in the Alps 
- starring Margie Gay - is released.
1936:

Mika Mis, the first official Disney magazine to be published in Serbia, makes its debut. It is launched by Aleksandar J. Ivkovic.  

1952:

Disney's Chip 'n' Dale cartoon Two Chips and a Miss is released.

1956:

The Disneyland television series airs an episode titled

"The Goofy Sports Show," hosted by Walt Disney.

Walt Disney Productions is awarded an Oscar for Men Against the Arctic (Documentary, Short Subjects) at the 1955 Academy Awards.

1962:

Actor Matthew Broderick, the voice of the adult Simba in Disney's 

The Lion King, The Lion King II: Simba's Pride and The Lion King 1½, is born in 

New York City. He also starred in Disney's 1999 live-action feature Inspector Gadget and the 2003 

ABC-TV edition of The Music Man, which aired on The Wonderful World of Disney.

(Broderick is perhaps best known for his role in the 1986 Ferris Bueller's Day Off.)

Comedian-turned-TV host Rosie O'Donnell, the voice of Terk in Disney's Tarzan, 

is born in Commack, New York.

1994:

TIME magazine runs an article about Disney's plans for a $650 million

American-history-and-entertainment park, called Disney's America.

1996:

Disneyland unveils its long-awaited plans to renovate Tomorrowland. They include replacing the slow PeopleMover with a faster new attraction, Rocket Rods. The extensive project is due for completion in Spring 1998.


2006:

Disney's 2005 animated feature Chicken Little comes to DVD.

2008:

High school senior Tracie Ervin becomes the 2-millionth student performer 

to take part in Disney World's Magic Music Days (since the festival began 

in 1985). A member of the Mount Hebron High School marching band - a 165-piece band from 

Maryland taking part in the festival - Tracie is presented with an array of prizes, including a free 

vacation and an overnight stay in the Cinderella Castle!

Disney Channel debuts episode 48 of Hanna Montana, "(We're So Sorry) 

Uncel Earl." Guests stars include David Koechner (as Miley's Uncle Earl) and Gilbert Gottfried (as 

Barney Bittman).

"I was completely shocked and blown away!" - Tracie Ervin, 2-millionth student performer for Disney's Magic Music Days

Disney's It's a Small World

 attraction was originally

 supposed to feature a medley of

 national anthems from countries

 represented. But the result

 would've been a cacophony of

 noise. So it was decided that the

 Sherman Brother's catchy tune

 would be used throughout the

 attraction instead.

Mission To Mars debuts in Disneyland

Escape to Witch Mountain released

1958:

Actor and filmmaker Gary Oldman is born in London, England. Frequently cast as 

eccentric villains and morally corrupt characters, he portrayed Jacob Marley, Bob Cratchit, and Tiny Tim in 

Disney's 2009 A Christmas Carol.

Actor, writer and producer Brad Hall is born in Santa Barbara, California. He

provided the voice of the Grasshopper for Pixar's 1998 A Bug's Life. Best known as a Saturday Night Live news 

anchor on Saturday Night News and for creating the sitcoms The Single Guy and Watching Ellie, Hall is married to 

actress Julia Louis-Dreyfus. He was also a producer, writer, and director on the Golden Globe winning 

sitcom Brooklyn Bridge.

Jason O'Day: "I've got no patience for kids, especially runaways!"

Tony Malone: "It's just the opposite, sir, we're trying to find out where home is!"

-Escape to Witch Mountain

1999:

Although both nominated for Achievement In Music Written For Motion Pictures

 (Original Musical or Comedy Score), Mulan and A Bug's Life are edged out by

 Shakespeare in Love at the 71st Academy Awards.

1947:

The Pluto short Rescue Dog, directed by Charles Nichols, is released. Pluto

 tries to be a good rescue dog in the frozen north, but ends up trapped in the ice because of a harassing seal!

1936:

The Disney Studio Commisary, located on Mickey Avenue, opens for the first time.

1946:

Actor Timothy Peter Dalton, the voice of Mr. Pricklepants in Toy Story 3, is born in Wales. (Best known for portraying James Bond in the 1980s in The Living Daylights and Licence to Kill, 

Dalton began his film career with the 1968 feature The Lion in Winter.)

1997:

The fifth and final weekend of the very first Star Wars Weekends takes place at Disney-MGM Studios.

This Day in Disney History - THE FIRST - THE ORIGINAL

Traveling in time since 1999!

2014:

Disney releases the musical comedy Muppets Most Wanted, the sequel

to the 2011 film The Muppets.