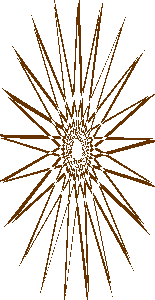 1975:

Disneyland's Mission to Mars opens in Tomorrowland. Designed in cooperation 

with NASA, the show replaces Flight to the Moon (opened since 1967). Guests 

enter a viewing area known as Mission Control, which is modeled after a typical mission control center 

featuring seated Audio-Animatronic "technicians" whose backs are to the audience. Facing the audience is 

an Audio-Animatronic named Mr. Johnson who hosts the show with film clips about space travel. After the 

pre-show, guests board their spacecraft - a circular theater with stadium-like seating featuring circular flat 

screens on the ceiling and floor. It is here they experience a trip to Mars.

Disney's live-action adventure feature Escape to Witch Mountain is released. Two 

mysterious orphan children named Tia & Tony (played by Kim Richards & Ike Eisenmann) with extraordinary powers are chased by a scheming millionaire (Ray Milland). A cynical widower (Eddie Albert) helps the brother & sister orphans "escape to witch mountain." Directed by John Hough, the cast also includes Donald Pleasence, Walter Barnes, and Denver Pyle. It is based on the book by Alexander Key.


2003:

Columnist Mike Thomas describes his trip to the Magic Kingdom 

to escape the current realities of war in an Orlando Sentinel article titled "Ta-da! Disney's magic makes war disappear."

The Lizzie McGuire episode "The Greatest Crush of All" 

debuts on the Disney Channel.

Piglet's Big Movie, an animated film produced by DisneyToon Studios and released by Walt Disney Pictures, premieres. When little Piglet comes up missing, his Hundred Acre Wood friends use Piglet's own "Book of Memories" to find him, discovering along the way just how big a role he's played in their lives. The voice cast includes John Fiedler, Jim Cummings, Ken Sansom, Nikita Hopkins, Kath Soucie, and Peter Cullen. The film features 7 new songs written by singer Carly Simon.

1927:

T
he 
Alice Comedy
Alice in the Alps 
- starring Margie Gay - is released.
1936:

Mika Mis, the first official Disney magazine to be published in Serbia, makes its debut. It is launched by Aleksandar J. Ivkovic.  

The Disney Studio Commisary, located on Mickey Avenue, opens for the first time.

1952:

Disney's Chip 'n' Dale cartoon Two Chips and a Miss is released.

1956:

The Disneyland television series airs an episode titled

"The Goofy Sports Show," hosted by Walt Disney.

Walt Disney Productions is awarded an Oscar for Men Against the Arctic (Documentary, Short Subjects) at the 1955 Academy Awards.

1962:

Actor Matthew Broderick, the voice of the adult Simba in Disney's 

The Lion King, The Lion King II: Simba's Pride and The Lion King 1½, is born in 

New York City. He also starred in Disney's 1999 live-action feature Inspector Gadget and the 2003 

ABC-TV edition of The Music Man, which aired on The Wonderful World of Disney.

(Broderick is perhaps best known for his role in the 1986 Ferris Bueller's Day Off.)

Comedian-turned-TV host Rosie O'Donnell, the voice of Terk in Disney's Tarzan, 

is born in Commack, New York.

1994:

TIME magazine runs an article about Disney's plans for a $650 million

American-history-and-entertainment park, called Disney's America.

1996:

Disneyland unveils its long-awaited plans to renovate Tomorrowland. They include replacing the slow PeopleMover with a faster new attraction, Rocket Rods. The extensive project is due for completion in Spring 1998.


2006:

Disney's 2005 animated feature Chicken Little comes to DVD.

2008:

High school senior Tracie Ervin becomes the 2-millionth student performer 

to take part in Disney World's Magic Music Days (since the festival began 

in 1985). A member of the Mount Hebron High School marching band - a 165-piece band from 

Maryland taking part in the festival - Tracie is presented with an array of prizes, including a free 

vacation and an overnight stay in the Cinderella Castle!

Disney Channel debuts episode 48 of Hanna Montana, "(We're So Sorry) 

Uncel Earl." Guests stars include David Koechner (as Miley's Uncle Earl) and Gilbert Gottfried (as 

Barney Bittman).

"I was completely shocked and blown away!" - Tracie Ervin, 2-millionth student performer for Disney's Magic Music Days

Disney's It's a Small World

 attraction was originally

 supposed to feature a medley of

 national anthems from countries

 represented. But the result

 would've been a cacophony of

 noise. So it was decided that the

 Sherman Brother's catchy tune

 would be used throughout the

 attraction instead.

Mission To Mars debuts in Disneyland

Escape to Witch Mountain released

1958:

Actor and filmmaker Gary Oldman is born in London, England. Frequently cast as eccentric villains and morally corrupt characters, he portrayed Jacob Marley, Bob Cratchit, and Tiny Tim in Disney's 2009

A Christmas Carol.

Actor, writer and producer Brad Hall is born in Santa Barbara, California. He

provided the voice of the Grasshopper for Pixar's 1998 A Bug's Life. Best known as a Saturday Night Live news 

anchor on Saturday Night News and for creating the sitcoms The Single Guy and Watching Ellie, Hall is married to 

actress Julia Louis-Dreyfus. He was also a producer, writer, and director on the Golden Globe winning 

sitcom Brooklyn Bridge.

Jason O'Day: "I've got no patience for kids, especially runaways!"

Tony Malone: "It's just the opposite, sir, we're trying to find out where home is!"

-Escape to Witch Mountain

1999:

Although both nominated for Achievement In Music Written For Motion Pictures

 (Original Musical or Comedy Score), Mulan and A Bug's Life are edged out by

 Shakespeare in Love at the 71st Academy Awards.

1947:

The Pluto short Rescue Dog, directed by Charles Nichols, is released. Pluto

 tries to be a good rescue dog in the frozen north, but ends up trapped in the ice because of a harassing seal!

1946:

Actor Timothy Peter Dalton is born in Wales. He is the voice of Mr. Pricklepants in Toy Story 3 (2010), the shorts Hawaiian Vacation (2011) & Small Fry (2011), and Toy Story 4 (2019). Dalton also played the role of movie star Neville Sinclair in the superhero film The Rocketeer (1991). (Best known for portraying James Bond in the 1980s in The Living Daylights and Licence to Kill,  Dalton began his film career with the 1968 feature The Lion in Winter.)

1997:

The fifth and final weekend of the very first Star Wars Weekends takes

place at Disney-MGM Studios.

Actress, singer, songwriter, dancer and model Martina Stoessel is born in Argentina.

She gained international popularity for her debut role as Violetta Castillo in the Disney Channel Latin America original telenovela Violetta (2012). Violetta tells the story of a musically talented teenager, who returns to her native Argentina after living in Europe for several years, navigating the trials and tribulations of growing up. She also starred in the 2016 Spanish-Italian film Tini: The Movie (produced & distributed by Disney).

This Day in Disney History - THE FIRST - THE ORIGINAL

Traveling in time since 1999!

2014:

Disney releases the musical comedy Muppets Most Wanted, the sequel to the

2011 film The Muppets. The Muppets find themselves unwittingly involved in an international crime

caper while on tour in Europe. The film stars Ricky Gervais, Tina Fey, and Ty Burrell, with cameos by Lady Gaga, Tony Bennett, Celine Dion, Frank Langella, Christoph Waltz, Josh Groban, Ray Liotta, and Ross Lynch. 

Playing in front of Muppets Most Wanted is the Pixar short Party Central, the second short in the Monsters, Inc. franchise. The short focuses on Mike and Sulley who help their Oozma Kappa fraternity brothers throw a successful party.

1969:

Walt Disney Productions release the live-action western Smith!, starring Glenn Ford.

When an Indian named Jimmyboy is accused of murdering a white man, he flees onto the ranch of Smith (Ford),

who's well known for his tolerance for Native Americans, since he was raised by one.

1982:

Actor-singer Santino Fontana, best known to Disney fans for voicing Prince Hans

in the 2013 animated film Frozen, is born in Stockton, California.

1968:

The One and Only, Genuine, Original Family Band, a musical 

film from Walt Disney Productions based on a biography by 

Laura Bower Van Nuys, debuts at Radio City Music Hall in 

New York City. Set against the backdrop of the 1888 presidential election, the 

film portrays the musically talented Bower family, American pioneers who settle in 

the Dakota Territory. The cast includes Walter Brennan, Buddy Ebsen, John 

Davidson, Lesley Ann Warren, Kurt Russell, Richard Deacon, Wally Cox, Jon 

Walmsley, and Goldie Hawn (making her big-screen debut). The film features 

nine songs written by Richard and Robert Sherman. Originally intended to run 156 

minutes, Radio City requested 20 minutes of cuts. Disney responded by cutting

the film to 110 minutes.

1972:

Grammy Award-winning songwriter Kristen Anderson-Lopez is born in New York

City. She is best known for co-writing the songs for the 2013 animated film Frozen with her husband Robert Lopez.

They won the Academy Award for Best Original Song for "Let It Go" from Frozen and "Remember Me" from Cocoa

at the 86th and 90th Academy Awards. Back in 2006, Anderson-Lopez and her husband wrote the songs for the 

Walt Disney World production of Finding Nemo – The Musical.

2000:

Fishbone and the Familyhood Nextperience Present: The Psychotic Friends Nuttwerx, the sixth album from alternative rock band Fishbone, is released on Disney's

Hollywood Records.

2021:

Disney Legend Jim Cora, who joined Disneyland Park as an attractions host in 1957 and retired as chairman of Disney International 43 years later, passes away suddenly at age 83. For 10 years, Jim held positions of increasing responsibility in management at Disneyland. In 1971, he assisted in the opening of the Magic Kingdom at Walt Disney World, implementing the "Disney Way of Leadership" program. In 1974, as staff assistant to Dick Nunis, president of Walt Disney Attractions, Cora redesigned the Disneyland Park operating organization to the "area concept," becoming one of three production directors for the Park, responsible for Fantasyland and Tomorrowland. In 1979, Cora assumed the responsibilities of managing director of Operations for the Tokyo Disneyland Project. In 1995, he was promoted to president, Disneyland International, responsible for the development and creative direction of Tokyo Disneyland, in addition to directing the strategic and creative development of Tokyo DisneySea. In 1999, Cora was promoted to chairman, Disneyland International, where his primary focus was to develop and maintain the strategies that ensured the continued growth and success of the Tokyo Disney Resort. He retired from that position in 2001, after 43 years with Disney.