1925:

John Fiedler, the original voice of Piglet in many of Disney's

Winnie the Pooh movies and TV programs, is born in

 Platteville, Wisconsin. An actor in stage, film, television and

 radio, Fiedler's four decade career included the original cast of A Raisin

 in the Sun and the role of Mr. Peterson, one of Dr. Hartley's more

 likable patients, for five seasons on the 1970s The Bob Newhart Show,

 a classic CBS sitcom. He also appeared in The Odd Couple (both the feature

 and TV series) and two episodes of The Twilight Zone.


2005:

It is announced that Rotten Tomatoes, the online source for gauging the critical reaction for movies, has given The Incredibles its Golden Tomato Award for 2004 in

the Wide Release category. (The Golden Tomato Award is handed out annually by Rotten Tomatoes in recognition of the year's best-reviewed films.)

Playboy founder Hugh Hefner and his entourage visit Walt Disney World.

It is reported that DisneyHand, worldwide outreach for The Walt Disney Company, WLS-Channel 7, WLS-AM (890), WZZN-FM (94.7), WMVP-AM (1000) and WRDZ-AM 

(1300), have committed $500,000 in cash and public service air time to the Museum of Broadcast Communications. The donation will support the development of the new Museum of Broadcast Communications in Chicago.

"In the '60s, Disney was looking for a Piglet. Walt was watching TV with his wife. I came on in some show, and he shut his eyes and said, That's Piglet!" -John Fiedler

1930:

Roy Disney signs a deal with M. George Borgfeldt Co. of New York to sell figurines

of Mickey and Minnie Mouse. (Many consider this the beginning of Disney merchandising.) The Disney Company will receive 2 ½% royalties on items of 50₵ or less, 5% for more expensive items. Unfortunately as

the Disney organization is small, it will have a difficult time controlling the quality of the merchandise.

1941:

Disney's animated feature Pinocchio is released in Sweden.

1945:

 Disney's 9th feature film The Three Caballeros (featuring 4 short

animated films) is released in the U.S. Produced as part of the studio's good will

message for South America, the film stars Donald Duck, who in the course of the film is joined by old friend José

Carioca, the cigar- smoking parrot from Saludos Amigos (1943) representing Brazil, and later pistol-packing rooster Panchito Pistoles, representing Mexico. It will earn 2 Academy Award nominations. (Though after a brief initial run, Walt will pull the film from general release, due to bad press reviews.)

       1956:

             Tony Award-winning actor of stage and screen Nathan Lane is born    

             Joseph Lane in Jersey City, New Jersey. He is the voice of Timon in Disney's 

                  1994 The Lion King (and countless spin-offs) and the voices of both Spot & Scott in Disney's  

                  2004 feature Teacher's Pet. He received three nominations and won two Daytime Emmy Awards for Timon and Pumbaa and TV's Teacher's Pet. Lane is also the voice of Tom Morrow, the Audio-Animatronic 

host of Epcot's Innoventions. Fans of ABC's Modern Family know Lane as Pepper Saltzman. (You may recognize him as Albert in The Birdcage, Max Bialystock in the musical The Producers, and Ernie Smuntz in MouseHunt.)

1963:

The NBC-TV series Walt Disney's Wonderful World of Color airs "Greta, the Misfit Greyhound."

1967:

The article "Disneyworld Amusement Center with Domed City Set for Florida"

 appears in the New York Times the day after Walt Disney Productions announces

 plans to build the world's first glass-domed city.

1969:

C
artoonist Al Taliaferro, known as the first artist of Donald Duck newspaper comics, passes away in Glendale, California, at age 63. Born in 
1905
, he initially was hired by Disney in 1931 as an animator. Later transferred to the comic strip department, he first lettered the Mickey Mouse strips (from March 1931 to July 1932) and then drew the Bucky Bug comics as well as Silly Symphonies pages (from 1932 to 1939). Among the Silly Symphonies adaptations was "The Little Red Hen" - the debut of Donald Duck. While working on the Donald Duck strips, he also created Donald's nephews Huey, Dewey and Louie! Taliaferro created the Donald Duck pantheon and established the elements upon which Carl Barks and other Disney artists would draw. Until Barks began creating original stories for comic books, Taliaferro's work offered the definitive portrait of Donald Duck. Charles Alfred Taliaferro was posthumously honored a Disney Legend in 
2003
.
1993:

CBS-TV airs the Disney special "The Best of Disney Music: A Legacy in Song."

Disney's live-action feature Homeward Bound: The Incredible Journey is released. A story

about 2 dogs and a cat in search of their owner,  the voices are provided by Michael J. Fox (as Chance), Sally Field

(as Sassy), and Don Ameche (as Shadow).

Touchstone Pictures releases the comedy-drama The Cemetery Club. The story of three

Pittsburgh widows who gather once a month to visit their husband's graves, their friendship becomes strained when

one of them starts dating. Starring Ellen Burstyn, Olympia Dukakis, Diane Ladd, Danny Aiello, and Lainie Kazan, the

film is distributed by Buena Vista Pictures.

1998:

The soundtracks to both the animated features Snow White and the Seven Dwarfs and Peter Pan are both reissued to CDs.

2001:

The animated series Disney's House of Mouse airs the 3rd episode 

"The Three Caballeros." When no one remembers Donald Duck is the third member of the Three Caballeros, he sets out to redefine himself as the big star of the group... much to the chagrin of Mickey and everyone else!

A smoking electrical panel triggers a fire alarm at Disneyland, prompting an evacuation of the new California Adventures attraction. Employees evacuate a movie theater and simulation ride when smoke coming from a ventilation system clouds an IMAX giant screen. Moviegoers experiencing the "Soarin' over

California" hang-gliding film are ushered out. Firefighters are called but thankfully no one is hurt.

2002:

Super Bowl XXXVI MVP Tom Brady of the New England Patriots proclaims "I'm going to Walt Disney World!" following his team's 20-17 victory over the St. Louis Rams in New Orleans. The twenty-four-year-old quarterback tapes the 32nd episode of the famous Disney commercial following the game.

2004:

Disney's The Lion King 1 1/2: Songs from Timon & Pumbaa's Hilarious Adventure is released on Walt Disney Records. The collection includes a pop rendition of "Grazing in the Grass" performed by Raven, and a new track "That's All I Need" by Elton John and Tim Rice.

Actor/singer Jason Raize passes away at age 28 on a farm in Yass, New South Wales, Australia. Born in Oneonta, New York, he was best known for his roles as the adult Simba in the Broadway stage musical version of The Lion King and the voice of Denahi in the animated Disney film Brother Bear.

1989:

Disney issues new $1 and $5 Disney Dollars at Disneyland and Walt Disney World.

 The $1 bill depicts Mickey Mouse on one side, and Sleeping Beauty Castle on the other. The $5 bill features

 Goofy on one side, and EPCOT Center's Spaceship Earth & the Empress Lilly Riverboat on the other.

Actor Ryne Sanborn, known for his role of Jason Cross in the Disney High School Musical films, is born in Salt Lake City, Utah.

1982:

A
ctress/singer 
Ashley Brown
 is born in Gulf Breeze, Florida (near Pensacola). Her Disney credits include the live stage shows 
On the Record
 (as Kristen), 
Beauty and the Beast
 (as Belle), and 
Mary Poppins
 (originating the title role on Broadway).
In 
October 2009
, Brown performed the role of Snow White in the world symphonic premiere of 
Snow White and the Seven Dwarfs - A Symphonic Retelling
, at the Walt Disney Concert Hall in Los Angeles. In 2015, she sang "A Kiss Goodnight" by Richard M. Sherman, the exit song from 
Disneyland Forever
, a production that commemorated Disneyland's 60th anniversary.
2007:

The Walt Disney Company announces a $50,000 donation to the American Red

 Cross to aide in relief efforts following the severe storms and tornados that struck

 Central Florida the night before.

In Los Angeles, the DGA Awards are presented by Directors Guild of America.

 Outstanding Directorial Achievement in Children's Programs goes to Kenny Ortega, Don Schain, Matias Alvarez & Tobijah Tyler for High School Musical. 

Walt Disney World's Magic Kingdom 

Fire Department is company number 71 - for the year the park 

opened ... 1971!

(The Reedy Creek Fire Department provides real fire and emergency medical services to all of WDW.)

2008:

New York Giants quarterback Eli Manning declares, "I'm going 

to Disneyland!" following his team's dramatic 17-14 win over 

the New England Patriots at Super Bowl XLII.

Disney Channel debuts "Lights, Candace, Action!" the 5th episode of Phineas and Ferb.

1978:

Actress, songstress, dialect coach, and historian Eliza Schneider is born. Sometimes credited as Eliza Jane Schneider, her Disney credits include Finding Nemo, Kingdon Hearts II, and the video game Pirates of the Caribbean: At World's End (as the voice of Elizabeth Swann). (For five years, she voiced eight different female characters for Comedy Central's hit animated series South Park.)

Actor Adrian R'Mante, best known for his role as Esteban Julio Richardo Montoya De La

 Rosa Ramirez on the Disney Channel series The Suite Life of Zack & Cody,

 is born in Tampa, Florida.

"I'm going to Disneyland!" -Eli Manning

In Memory of Al Taliaferro (1905-1969)

1931:

Disney's Silly Symphony Birds of a Feather, directed by Burt Gillett, is released. When a

flock of birds are attacked by a hawk - who steals one of the baby birds - the birds join ranks to rescue him back! 

1918:

Animator Don Griffith is born in Butte, Montana (though his family moved to Hollywood after the passing of his father). His career began at the age of 19 as an inker at Disney Studios on Hyperion Street in Los Angeles. Griffith's nearly 50 years at Disney included teaching at Cal Arts and working as a layout, background and art director on such features as Peter Pan, Mary Poppins, The Jungle Book, The AristoCats and The Black Cauldron. Despite a lack of training as an artist before he started working for Disney, Griffith became one of the studio's key Art Directors.

"Hey, Donald, you are what they say "off the cob". You know, corny." -Panchito 

(from The Three Caballeros)

1939:

Disney's Mickey Mouse cartoon Society Dog Show, directed by Bill Roberts, is 

released. Mickey enters Pluto in a fancy dog show where they are hopelessly outclassed and have little 

chance of winning ... until the building catches on fire and Pluto saves the day!

1985:

The Disney Channel Premiere Film Lots of Luck premieres on The Disney Channel.

Directed by Peter Baldwin, the film focuses on a blue-collar family who wins the lottery - forever changing their lives.

The cast includes Martin Mull, Annette Funicello, Fred Willard, and Tracey Gold.

1977:

On this day's episode of The New Mickey Mouse Club, Mickey Mouse's life story

is traced from Steamboat Willie to his role as leader of the Club!

2010:

Volume II issue I of D23's magazine Disney twenty-three

 premieres. The Spring 2010 issue features a celebration of the Disney

 Studio Lot on its 70th anniversary.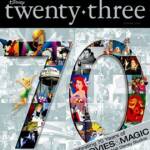 FEBRUARY IS NATIONAL AFRICAN-AMERICAN HISTORY MONTH

Selected Disney credits:

The Emperor's New Groove 2:

 Kronk's New Groove (2005)

Pooh's Heffalump Movie (2005)

Winnie the Pooh: Springtime with

 Roo (2004)

Piglet's Big Movie (2003)

The Emperor's New Groove (2003)

The Tigger Movie (2000)

The Fox and the Hound (1981)

The Rescuers (1977)

The Many Adventures of Winnie the Pooh (1977)

The Shaggy D.A.  (1976)

Winnie the Pooh and Tigger Too (1974)

1986:

P
ixar ceases being part of the Lucasfilm empire and becomes an independent company. At this time, the new enterprise, owned mostly by Steve Jobs (as of 
January 30
) along with Ed Catmull & Alvy Ray Smith, is in the advanced computer hardware business. Pixar was founded as the Graphics Group, one third of the Computer Division of Lucasfilm that was launched in 1979 with the hiring of Catmull. (It will be nearly a decade until Pixar Inc. becomes Pixar Animation Studios, known for producing some of the greatest animated films ever.)
2011:

Pixar Animation Studios celebrates its 25-year anniversary.

1929:

The Film Daily announces that Mickey Mouse cartoons

will be distributed internationally:

"Mickey Mouse" Goes Abroad

Contracts were closed this week between International Photo Play Distributors and Charles J. Giegerich, eastern representative for Walt Disney, whereby International secures foreign rights to the Disney "Mickey Mouse" animated sound cartoons.

2013:

Quarterback Joe Flacco leads the Baltimore Ravens to a Super Bowl win in New 

Orleans. Immediately following his team's 34-31 win over the San Francisco 49ers, Flacco stares into a 

camera and shouts "I'm Going To Disney World!" The iconic moment will be used as part of a national TV 

commercial the following day. Flacco will have the honor of starring in the 46th version of the famous TV spot.

2014:

Disney's latest "Going to Disney World" ad premieres during this morning's edition of

"Good Morning America" and ESPN's "SportCenter." Super Bowl XLVIII MVP Malcolm Smith of the

Seattle Seahawks is the newest in a long line of victors to proclaim he's "going to Disney World!" As a linebacker,

Smith is the first defensive player ever to star in the Disney World / Disneyland commercial.

​Also featured in the ad is the singing voice of Idina Menzel (known to fans of Disney's Frozen).

Later in the day Smith rides with Mickey Mouse in a parade through the Magic Kingdom at Walt Disney World.

2017:

The former Fulton's Crab House — which was once the Empress Lilly riverboat 

restaurant — hosts a grand opening event as the redesigned Paddlefish at Disney 

Springs. (Walt Disney World's shopping, dining, and entertainment complex, which had been known as 

Downtown Disney for a couple of decades, has been undergoing a major expansion and transformation. Now 

dubbed Disney Springs, visitors have about twice as many locations to shop and eat.)

Remember... Dreams Come True, a fireworks display at Disneyland originally commemorating the 50th anniversary of the park in 2005, reopens for the third time.

Described as an "E ticket in the sky," the show features fireworks, lower level pyrotechnics, isopar flame effects, projection mapping, lasers, searchlights, and lighting set to the soundtracks of some of Disneyland's most famous rides and shows. (It will run through April 2018 and then reopen for the 4th time the following September.)

2018:

Pixar's Coco, a colorful journey through the Land of the Dead, is the big winner at the

45th Annie Awards, picking up 11 trophies overall, including Best Animated Feature. 

Coco also wins:

Outstanding Achievement for Animated Effects in an Animated Production

Outstanding Achievement for Character Animation in an Animated Feature Production

Outstanding Achievement for Character Design in an Animated Feature Production

Outstanding Achievement for Directing in an Animated Feature Production

Outstanding Achievement for Music in an Animated Feature Production

Outstanding Achievement for Production Design in an Animated Feature Production

Outstanding Achievement for Storyboarding in an Animated Feature Production

Outstanding Achievement for Voice Acting in an Animated Feature Production

Outstanding Achievement for Writing in an Animated Feature Production

Outstanding Achievement for Editorial in an Animated Feature Production

Disney Television Animation's Disney Mickey Mouse picks up

three awards, including Direction, Storyboarding and Music.

Disney Junior's Octonauts wins the award for Best TV/Broadcast Production for Preschool Children.

Circle of Life: An Environmental Fable, a 70 mm documentary shown in the Harvest

Theater in The Land pavilion at Epcot, permanently closes. Opened since January 1995 (replacing Symbiosis), it featured characters from The Lion King.

1995:

Touchstone Pictures and Caravan Pictures releases the comedy The Jerky Boys:

The Movie. The film features two men, Johnny B. and Kamal, aka "the Jerky Boys", two self-described "low-

lifes from Queens", who get into trouble with the Mafia when one of their prank calls leads them into a money

laundering business.

2019:

After leading their team to a Super Bowl victory in Atlanta, Tom Brady and

Julian Edelman of the New England Patriots shout "We're going to Disney World!"

The two are scheduled to appear at Magic Kingdom theme park for a parade and celebration the following afternoon.

Wide receiver and punt returner Edelman was named most valuable player of Super Bowl LIII, a 13-3 victory over the

Los Angeles Rams. It marked quarterback Brady's sixth Super Bowl win in his NFL career, a record.

1976:

Actress Isla Fisher is born in Muscat, Oman (an Arab country on the southeastern

coast of the Arabian Peninsula in Western Asia) to Scottish parents. She voiced an

adventurous young sprite named Button in the episodes "The Littlest Princess" and "All the Sprite Moves" of the

Disney Junior animated series Sofia the First. She also played Rebecca Bloomwood in the 2009 Touchstone

Pictures film, Confessions of a Shopaholic.

1991:

Character actress Nancy Kulp passes away at age 69 in Palm Desert, California. Her Disney credits include The Parent Trap (1961) as Miss Grunecker, Moon Pilot (1962) as Space Flight Nutritionist, and The Aristocats (1970) as the voice of Frou-Frou. Best known as Miss Jane Hathaway on the CBS television series The Beverly Hillbillies, Kulp also performed in the Broadway production of Morning's at Seven from 1980-1981.

2020:

Super Bowl MVP Patrick Mahomes takes part in a special Magic Kingdom parade at Disney World to celebrate his team's win the day before.

2006:

Actor & restaurant owner Al Lewis, best known for his role as Count Dracula lookalike "Grandpa", opposite Fred Gwynne's and Yvonne De Carlo's characters on the CBS television series The Munsters from 1964 to 1966, passes away at age 82 in New York City. His only Disney credit was the 1970 comedy The Boatniks, in which he played Bert.

The second season of the animated series Brandy & Mr. Whiskers debuts on Disney Channel. The show follows the lives of a pampered-yet-spunky dog and a hyperactive rabbit, who get stuck in the Amazon Rainforest together. The voice cast features Kaley Cuoco (as Brandy) and Charlie Adler (as Mr. Whiskers).

2021:

Nominations for the 78th Golden Globe Awards are announced:

-Best Performance in a Motion Picture – Musical or Comedy Actor: Lin-Manuel Miranda – Hamilton as Alexander Hamilton

-Best Original Score: Trent Reznor, Atticus Ross, and Jon Batiste – Soul

-Best Animated Feature Film: Onward and Soul

-Best Television Series Drama: The Mandalorian (Disney+)

Disney Books releases "Star Wars: The High Republic Adventures #1," by Daniel José

Older (bestselling author of "Star Wars: Last Shot") and artist Harvey Tolibao.

1951:

Byron Erickson, editor and writer in the comic book industry, is born in Tucson, Arizona. He is known for his work at Egmont (mass media/publisher) on Disney comic books. 

2016:

Voice actor, broadcaster, impressionist and stand-up comedian Joe Alaskey passes away at age 63 in New York. Known as one of Mel Blanc's successors at the Warner Bros. Animation studio (due to his ability to successfully impersonate Looney Tunes characters), his film credits included Disney's Who Framed Roger Rabbit as Yosemite Sam, Touchstone's Spaced Invaders as Dr. Ziplock, and Disney's 1990 version of The Jungle Book as Kaa. Alaskey's voice could be heard in television episodes of The Little Mermaid, Buzz Lightyear of Star Command, and Teamo Supremo.