2005:

This day's Disney DVD releases include The Boatniks, Toby

 Tyler, Johnny Tremain, and The World's Greatest Athlete.

The audio CD Radio Disney: Move It is released. The 15 tracks

 include "We Will Rock You" (Queen), Le Freak (Chic), and "Macarena" (Los Del Rio).

1920:

Voice actor, writer and producer Bill Scott is born William John Scott in Philadelphia, Pennsylvania. His Disney voice credits include The Wuzzles and Adventures of the Gummi Bears. Scott is best remembered as the voice of Bullwinkle J. Moose for the animated Rocky and Bullwinkle Show and for supplying the voice of Dudley Do-Right for The Dudley Do-Right Show. (During World

War II Scott served in the U.S. Army's First Motion Picture Unit where he reported to Lt. Ronald Reagan ... and

worked with Disney animator Frank Thomas!) 

1998:

Passengers aboard the Disney Magic's maiden 

voyage become the very first Disney guests to 

set foot on Disney's private island, Castaway 

Cay (which officially opened July 30). Located 

225 nautical miles from Disney's home port of Port Canaveral, 

Florida, the island stretches 3.1 miles long and 2.2 miles wide.

Originally called Gorda Cay, the island was used for filming the

Touchstone 1984 feature Splash - where Tom Hanks first encountered Daryl Hannah on the beach.

1999:

Disney's newest ship the Disney Wonder is escorted into Port Canaveral,

 Florida for the first time, by its sister ship the Disney Magic.

2001:

Julie Andrews, Dick Van Dyke, songwriter Richard Sherman, and the

Disneyland Band rededicate Disney's Soundstage 2 in Burbank, California,

to The Julie Andrews Stage. Andrews filmed Disney's Mary Poppins and recently The Princess Diaries at this famous location. The Princess Diaries will be released the following day.

The late Guy Williams, the star of Disney's 1950s Zorro TV series, 

is awarded a star on the Hollywood Walk of Fame. Known for playing 

swashbuckling action heroes, Williams had passed away in 1989. He was also known for

the role of the father of the Robinson family on the 1960s sci-fi TV series Lost in Space.

2002:

The Bangles perform two shows at Disney's California Adventure.

An all-female band that originated in the early 1980s, they are best known for their hits 

"Manic Monday" and "Walk Like An Egyptian."

Touchstone Pictures releases the science fiction thriller Signs, starring Mel Gibson,

Joaquin Phoenix and Rory Culkin. The story focuses on a former preacher named Graham Hess

(Gibson), who discovers a series of crop circles in his cornfield. Hess slowly becomes

convinced that the phenomena are a result of extraterrestrial life.

1995:

Due to the early morning threat of Hurricane Erin, all Walt Disney World theme

 parks open late at 11:00 AM. Hurricane Erin is the fifth named tropical cyclone and the second

 hurricane of the unusually active 1995 Atlantic hurricane season.

In Aspen, Colorado, 36 Disney executives gather (for the next 3 days)

 to brainstorm ideas for a second Anaheim-based theme park to be built next to

 Disneyland. The result will be a plan for Disney's California Adventure!

The August 1963

issue of National

Geographic featured

49-page article by

Robert De Roos.

It also featured a rare

photo (taken by

Thomas  Nebbia) of

Walt, his wife, & their

grandchildren in the

Disneyland Fire

Station apartment ...

a photography first!

Castaway Cay greets first Disney guests

Guy Williams receives Hollywood Star

"Memories just come flooding back, rehearsing on the back lot in that excruciating heat. It firmed us up and got us healthy... Just all the wonderful things, the chimney sweep sequence, the Cherry Tree Lane stuff, wonderful memories. And now, I have a whole bunch of new memories, The Princess Diaries." 

-Julie Andrews (This Day in Disney History 2001)

2010:

Volume II issue III of D23's magazine Disney twenty-three debuts.

The Fall 2010 issue features a sneak peek of the animated feature Tangled.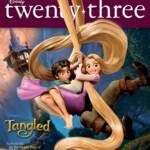 1989:

Disney announces plans to double the size of the entertainment

area of the Disney-MGM Studios Theme Park over three years. 

2011:

Bestselling artist and #1 Billboard Violinist Jenny Oaks Baker releases her newest

 album, Wish Upon a Star: A Tribute To The Music of Walt Disney on Shadow

 Mountain Records.

Walt Disney Records releases Phineas and Ferb: Across the 1st and 2nd Dimensions, the soundtrack for Phineas and Ferb The Movie: Across the 2nd Dimension. The album features 22 songs from the TV movie as well as various episodes of the series.

Phineas and Ferb: Summer Belongs to You! airs on Disney XD. It's the summer solstice,

so Phineas, Ferb, & their friends decide to travel around the world in one day in an effort to create the "Biggest, 

Longest, Funnest summer day of all time."

1970:

Screenwriter, actor, film producer, and director Kevin

Smith is born Kevin Patrick Smith in Red Bank, New

Jersey. Also a comic book writer, author, comedian/raconteur, and

internet radio personality, he is best known for his films Clerks and

Clerks II and his character Silent Bob. Clerks: The Animated Series

(an adult sitcom) aired for a short time on ABC-TV starting in May

2000. In 2004, the comedy-drama Jersey Girl, written & directed by

Smith, was released by Miramax Films (at the time owned by

Disney). In 2010, Smith lent his voice to the character Clive Addison

for an episode of Disney's Phineas and Ferb and in 2015 voiced a

Stormtrooper in Star Wars: The Force Awakens. At one time Disney

brought Smith onboard to write for a potential series based on Disney's Kingdom Keepers YA book series. Meant to stream on Disney+, the idea was later unfortunately canceled.

2012:

The newest "American Idol," Phillip Phillips, surprises a theater full of park guests

 when he makes an appearance on-stage at "The American Idol Experience" at 

Disney's Hollywood Studios. In central Florida for a performance of the "American Idol Live!" concert 

tour, Phillips also tapes a series of short videos that Walt Disney Entertainment will use in the future during the 

attraction experience. 

This Day in Disney History - THE FIRST - THE ORIGINAL

Traveling in time since 1999!

1973:

Screenwriter, film producer and television producer Simon Kinberg is born in

London, England (but from age 6 raised in Los Angeles, California). He is best known

for his work on the X-Men film franchise and served as a producer on Disney's 2015 Cinderella.

1971:

Actress Alice Evans is born in Bristol, England. She portrayed Chloe Simon in the

2000 live-action feature film 102 Dalmatians.

2019:

The musical fantasy Descendants 3 airs on Disney Channel for the first time. The third installment in the Descendants series, it is written by Sara Parriott and Josann McGibbon, and is directed by Kenny Ortega. Mal, Carlos, Evie, and Jay face their biggest challenge yet when an unfathomable dark force threatens the people of Auradon. Although the recent tragic death of actor Cameron Boyce (Carlos) cast an unexpected cloud over Descendants 3, it is watched by 4.59 million viewers.

The Main Street Electrical Parade returns to Disneyland for another limited engagement run. Featuring floats and live performers covered in over 600,000 electronically controlled LED lights with a synchronized soundtrack, versions of the parade exist in five Disney parks worldwide. The version at Disneyland Park in California's Disneyland Resort first ran from 1972-1996.

2003:

The 2003 Teen Choice Awards are handed out in California. Among the winners:

-Choice Movie Comedy: Sweet Home Alabama

-Choice Breakout Movie Actress: Hilary Duff – The Lizzie McGuire Movie

-Choice Movie Liplock: Reese Witherspoon & Josh Lucas – Sweet Home Alabama

-Choice Summer Movie: Pirates of the Caribbean: The Curse of the Black Pearl

-Choice Breakout TV Show: 8 Simple Rules

-Choice Breakout TV Actress: Kaley Cuoco – 8 Simple Rules

1905:

Animator William Pomerance, who worked for Walt Disney Studios, is born in Manhattan, New York. First working as a business manager of cartoonists, his stay at Disney was short as he left after the Disney Strike of 1941.

1959:

Jim Doughan, an actor, writer, and teacher, is born in Minnesota. His Touchstone/Disney credits include the films Ruthless People and The Haunted Mansion. He also appeared in an episode of That's So Raven. (Doughan is perhaps best known for his roles as Detective Doyle in The Mask and Detective Allen as well as the voice of Lucky the cat in Stuart Little.)