1913:

S
enior executive and 
Disney Legend
 Donn Tatum is born in California. 
He helped Roy O. Disney build Walt Disney World and assisted Company President Card Walker in developing 
EPCOT Center
. Later Tatum succeeded Roy O. Disney as chief executive and board chairman - becoming the first non-Disney family member to head the company! He held that position from 1971 until 1980.
Tatum then served as a director until 1992, when he was named "Director Emeritus". He also played a

major role in the development of Tokyo Disneyland.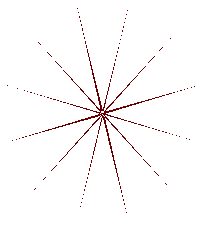 1987:

D
isneyland's Star Tours attraction 
opens
 in Tomorrowland
(occupying the space where Adventure Thru Inner Space once stood).

A simulator ride based on the Star Wars movies by George Lucas, it is the park's first attraction not to use Disney-designed imagery. The celebration lasts for 60 hours and guests are given a Star Tours Watch when they enter.

 The attraction features the voices of Paul Reubens (a.k.a. Pee Wee Herman) as Rex the bumbling pilot droid,

 Anthony Daniels as the voice of C-3PO, Steve Gawley as Red Leader, Dennis Murren as one of three ILMers

 (visible in a Maintenance Bay window), and Brian Cummings as the Vid-Screen announcer. The supervisor who

 ducks under the desk at the end of the ride is Ira Keeler - not George Lucas!


2006:

It is reported that the Royal Plaza in the Walt Disney World Resort has reopened

after undergoing a multi-million dollar renovation. The hotel had been closed since August 2004, when it sustained damages from Hurricane Charley.

The 11th Critics' Choice Awards are presented.

Among the winners...

-Best Family Film: The Chronicles of Narnia: The Lion, the Witch and the Wardrobe

Although nominated for Best Animated Feature, Disney's Chicken Little loses out to Wallace & Gromit: The Curse

of the Were-Rabbit.

"If we can dream it, we can do it!" 

- Horizons' inspiring message

1916:

A
dministrator and 
Disney Legend
 Card Walker is born Esmond Cardon Walker in
Rexburg, Idaho. A mailroom clerk for Disney in 1938, he was elected president of The Walt Disney Company

in 1971 - then called Walt Disney Productions. In 1976 Walker was named chief executive officer, and finally in

1980 became chairman of the board, a position he held until his retirement in 1983.

1937:

Don Donald, featuring Donald Duck and directed by Ben Sharpsteen, is released.

A character named Donna Duck (who will later be called Daisy) makes her debut.

1959:

The Walt Disney Presents TV series airs the 3rd (of 17) Texas John Slaughter episode

titled "Killers from Kansas." The show, which stars Tom Tryon as cowboy T.J. Slaughter, is Disney's 

attempt to recreate the wild success of Davy Crockett.

1976:

Disneyland opens the very first Disneyana Shop on Main Street. At this time, the shop sells 

all disneyana merchandise, including vintage collectibles purchased through secondary buyers. (The shop will eventually close in March of 1986, and a renovated Disneyana Shop will reopened in May 1998, selling only park-exclusive and limited edition merchandise.) 

1977:

The New Mouseketeers perform in the Super Bowl XI halftime production

 number in Pasadena, California. The Oakland Raiders go on to thrash the

 Minnesota Vikings, 32-14.

1992:

P
ainter, color stylist, Imagineer and Disney Legend 
Claude Coats
 passes away in 
Burbank, California. His stunning backgrounds can be seen in such animated classics as Pinocchio, 

Fantasia, Dumbo, and Peter Pan. As an art director & show designer, Coats also worked on such Disneyland 

attractions as Mr. Toad's Wild Ride, Alice in Wonderland, Pirates of the Caribbean, and the Haunted Mansion. He was also involved in 3 of the 4 attractions Disney built for the 
1964-65 World's Fair
. Claude's wife, Evie Coats, was one of the unsung heroines of animation's past. Hired by Disney in 1932 as an "inker" to trace animators' drawings
of cartoon characters onto clear sheets of celluloid - Evie was the oldest employee to have worked with Walt.

1999:

H
orizons closes forever at Walt Disney World's Epcot. Opened since 
October 1983
,
 the Future World attraction took guests on a fascinating 15-minute ride through the 21st century.

 Although Horizons "closes indefinitely" in 1994, it reopened over the next few years at various times (usually

 during busy seasons).The pavilion will be destroyed and many years later be replaced with Mission: SPACE.

The twenty-fourth episode of Disney's Recess, "The Story of Whomps/Weekend

 at Muriel's" premieres on ABC-TV. Television and film actor Gary Cole guest stars as the voice of

 Mr. White in "The Story of Whomps."

2002:

The Disney owned baseball team, the Anaheim Angels announce a new look for 

the team's uniforms. Capturing the tradition of Angel baseball and a contemporary "back to basics" 

flare, the new logo features the signature halo surrounding the "A" while the uniforms are reminiscent of

 decades past. Red is the dominant color for all 4 of the new uniforms: home, road, alternate home and a batting practice jersey.

C2004:

The daytime game show Who Wants to be a Millionaire, hosted by Meredith Vieira, tape episodes at the Disney-MGM Studios (for the next 3 days). 

To celebrate the success of NASA's Mars Exploration Rover, Epcot guests, Mickey Mouse, and Cast Members sign a giant congratulatory postcard outside the Mission:SPACE attraction.

A new improved SaveDisney.com web site is launched.

2005:

Brazilian Adriano Bastos, 26 of Sao Paulo, posts a time of 2:19:16 winning the

 2005 Walt Disney World Marathon. His second victory in the Florida marathon is the 18th-fastest

 Disney time ever. Amy Shertzer, 27, of Monument, Colorado, is the first

 woman to cross the finish line with a time of 2:56:06.

Other 2005 winners include:

Men's Masters: Paul Marmaro, Delray Beach, Fla., 2:41:38

Women's Masters: Nadiya Sytarchuck, Windermere, Fla., 3:06:00

Men's Chair: Renzo Martinez, Boca Raton, Fla., 2:12:22

Men's Half: Michael McGrane, Somerville, Mass., 1:13:08

Women's Half: Sabrina Monro, Rochester, Mich., 1:19:24

Women's Half Chair: Kristen Messer, Austin, Texas, 2:08:56

1938:

Leopold Stokowski conducts a 

recording session in Culver City, California, for a Disney animated segment called

The Sorcerer's Apprentice. The musical piece, also called The Sorcerer's Apprentice, 

is written by French composer Paul Dukas. Walt has had to rent a studio as the 85 musicians whom Stokowski has 

selected cannot fit on Disney's Hyperion soundstage. The session is recorded late at night at the suggestion of 

Stokowski. He chooses nighttime because the musicians will have to drink coffee to stay awake and this will make 

them more alert! (The success of the session will help Walt decide to turn The Sorcerer's Apprentice into just one 

segment of a bigger "concert feature" called Fantasia ... featuring Stokowski and The Philadelphia Orchestra!)

Animation for the short will begin on January 21.

The now extinct Epcot attraction

 Horizons was originally to

 be named Century 3 (or Century

 III), to recognize the third

 century of American existence

(1976-2076). 

"Horizons 1 is now departing. Our final destination today - the twenty-first century!"

Richard M. Nixon, the thirty-seventh United States President, is 

also born on this day, in Yorba Linda, California. As vice president, he 

visited Disneyland many times including a trip with his family in 
1959
 to take part in the 
dedication of the park's new monorail system. In 1961 he visited the Disneyland Hotel to 

speak at a Republican fund-raiser. As president he presented Lillian Disney with a 

special commemorative medal in honor of Walt in 
March 1969
. Perhaps Nixon's most 
notorious visit to a Disney park came in 
1973
 (during the height of the Watergate crisis) 
when he spoke in front of 400 Associated Press managing editors at the Contemporary 

Resort at WDW. During his speech, Nixon stated, "People have got to know whether or 

not their President is a crook. Well, I'm not a crook."  Visit Nixon and all the U.S. Chief 

Executives at Disney World's The Hall of Presidents.

2009:

The Walt Disney Company and Hanes officially opens "Disney Design-a-Tee presented by Hanes", an innovative next-generation store for apparel souvenirs at Downtown Disney in the Walt Disney World Resort.

2007:

The 33rd People's Choice

 Awards, honoring the best in

 popular culture for 2006, are

 held at the Shrine Auditorium in

 Los Angeles, California.

- Pirates of the Caribbean: Dead Man's Chest wins both

Favorite Movie Drama and Favorite Movie

- Cars wins Favorite Family Movie

 - Johnny Depp & Keira Knightley (Pirates of the Caribbean: Dead Man's Chest) win Favorite On Screen Match-Up

- "Life Is a Highway" by Rascal Flatts (from Cars) wins both

Favorite Song From A Movie and Favorite Remake

The Mickey Mouse Theater of the Air airs its second episode coast-to-coast on

the NBC radio network. Sponsored by Pepsodent Toothpaste, the program stars Walt Disney as

the voice of Mickey Mouse, Thelma Boardman as Minnie, Stuart Buchanan as Goofy and Clarence Nash

as Donald Duck. Mickey and the gang travel through time - thanks to the Magic Mirror (from Snow White

and the Seven Dwarfs) - to celebrate Snow White Day.

1958:

The Zorro episode "Shadow of Doubt" debuts on ABC-TV.

"When Star Tours debuted, we had to leave the park open for 60 hours to handle the crowds. It was an enormous success. And it

was an important turning point for the company and for the evolution of rides. It was the first real breakthrough

since animatronics and a major step forward." -Imagineer Tony Baxter

"Claude Coats did a lot. He was an architect but he was a wonderful painter and had a wonderful ability for these attractions. He did

 all of the layout for Pirates and because of his architectural background he could do that so well." -Imagineer Harriet Burns 

Hop aboard a Starspeeder 3000 for an exhilarating trip to Endor.

2010:

Chad Johnson and Emily Mortensen, both of Rochester Hills, Michigan, win

 the top men's and women's finishers in the Walt Disney World Half Marathon.

 The 13.1-mile race, which began and ended at Epcot, featured almost 23,000 runners who competed despite rain, sleet and flurries and temperatures in the low 30s!

"Dedicated to humanity's future. It is a careful synthesis of all the wonders within Epcot, and applies the elements of communication, energy, transportation, creativity, and technology to a better life-style for the family of the future."

2011:

Fredison Costa of Brazil, last year's runner-up, ends the domination of countryman Adriano Bastos at the Walt Disney World Marathon, pulling away over the second half of the 26.2-mile race and winning by nearly 61/2 minutes. Costa, 33, leads the field of approximately 17,500 runners across the finish line in 2 hours, 21 minutes, 14 seconds. Michael Wardian of Arlington, Virginia, is second in 2:27:39, and Oviedo's Paul Nielsen, 24, finishes third in 2:31:44. Leah Thorvilson of Little Rock, Arkansas, celebrates her 32nd birthday with an easy victory in the women's 

race with a time of 2:42:10.

  Other 2011 winners (over the last two days) include:

  Men's Masters: Pat Bragassa, Rigby, Idaho, 2:38:41

  Women's Masters: Myriam Grenon, Longueuil, Can., 2:58:30

  Men's Chair: Krige Schabort, Cedartown, Ga., 1:47:13

  Men's Half: Tim Young, Rochester Hills, Mich., 1:05:35

  Women's Half: Jenny Scherer, Delavan, Wis. 1:17:35

  Men's Half Chair: Mark Feltner, Orlando, Fla., 1:15:00

2000:

Jose Silva of Sao Paulo, Brazil, wins the 7th Annual Walt Disney World Marathon with a time of 2:25:40. Other winners on this day include:

Women's Overall: Jennifer Uwins, Stafford, Va., 2:54:51

Men's Masters: David Collins, Boca Raton, Fla., 2:40:57

Women's Masters: Marina Jones, Palm Desert, Calif., 2:56:19

Men's Chair: Saul Mendoza, Snellville, Ga., 1:42:41

Women's Chair: Katherine Hunter, Orlando, Fla., 3:00:29

Men's Half: Keith Brantly, Ft. Lauderdale, Fla., 1:09:46

Women's Half: Kim Pawelek, Jacksonville, Fla., 1:15:19

Men's Half Chair: Douglas Price, Corinth, Miss., 1:32:44

Women's Half Chair: Shannon Schaffer, Orlando, Fla., 2:06:45

Men's Racewalking: Erik Litt, Philadelphia, Pa., 4:49:00

Women's Racewalking: Heidi Hauch, Scottsdale, Ariz. 4:23:29

2013:

Disney announces that Michael Colglazier, the man who has overseen the

development of an "Avatar"-themed attraction in Disney World, has been named

president of the Disneyland Resort. Colgazier replaces George A. Kalogridis, who will take over

February 1 as president of Walt Disney World. Starting his career with Disney in 1971 working as a busboy at

Walt Disney World's Contemporary Resort, Kalogridis has held positions such as general manager of the

Grand Floridian and vice president of Epcot.

The 39th People's Choice Awards ceremony, honoring the best in popular culture

for 2012, is held at the Nokia Theatre in Los Angeles, California. Among the winners:

-Favorite Movie Actor: Robert Downey Jr.

-Favorite Dramatic Movie Actor: Zac Efron

-Favorite Dramatic Movie Actress: Emma Watson

-Favorite Action Movie Star: Chris Hemsworth

-Favorite Movie Superhero: Robert Downey Jr. – The Avengers as Tony Stark / Iron Man

-Favorite Animated Movie: Wreck-It Ralph

-Favorite Network TV Drama: Grey's Anatomy

This Day in Disney History - THE FIRST - THE ORIGINAL

Traveling in time since 1999!

2016:

Joao Marcelo Avelar from São Paulo, Brazil, wins the Walt Disney World Half

Marathon by more than four minutes, finishing the 13.1-mile race in 1 hour, 

10 minutes, 17 seconds. Princeton student Megan Curham (1:14:29) conquers the women's field 

by a bigger margin, winning by 7 1/2 minutes!

2015:

The Disney Channel sitcom Jessie begins its 4th and final season.

Film producer Samuel John Goldwyn Jr. passes away at age 88 in Los Angeles, California. Son of pioneer motion picture mogul Samuel Goldwyn (one of the founders of Metro Goldwyn Mayer Studios or MGM), for Disney Samuel produced the Touchstone Pictures films Stella, The Program and The Preacher's Wife.

Fantasy in the Sky, the first fireworks performance at Disneyland in Anaheim, debuts

for a second time. The first version had entertained park guests from 1958-1996  (with a short engagement in 2004).

1956:

Actress Imelda Staunton is born in London, England. A star of stage and screen, her credits include Disney's live-action Alice in Wonderland (2010) as the voice of Tall Flower Faces and the role of Knotgrass in both Maleficent (2014) and Maleficent: Mistress of Evil (2019).

1955:

Actor J.K. Simmons is born Jonathan Kimble Simmons in Grosse Pointe, Michigan. He supplied the voice of Mayor Lionheart in the 2016 Zootopia. Simmons has also lent his voice to such animated television shows as Kim Possible, Phineas and Ferb, The Avengers: Earth's Mightiest Heroes, Avengers Assemble,

Hulk and the Agents of S.M.A.S.H., and Gravity Falls. (He is best known for his roles of Dr. Emil Skoda on the NBC series Law & Order, Vernon Schillinger on the HBO series Oz, and Assistant Police Chief Will Pope on TNT's The Closer. You may recognize him from the Farmers Insurance Group TV commercials. Simmons is also widely known for being the voice of the yellow M&M, a role he has played in commercials since 1996.)

1998:

Actress Kerris Dorsey is born in Los Angeles, California. Her credits include the ABC series Brother and Sisters (2006-2011), the Disney Channel sitcom Shake It Up (2012), the Disney Channel movie Girl Vs. Monster (2012), and the Disney feature film Alexander and the Terrible, Horrible, No Good,

Very Bad Day (2014).

2022:

Actress Hayley Mills is given a replacement Oscar while visiting the Academy's headquarters in Beverly Hills, California. In 1961, when Mills was 14, the Academy of Motion Picture Arts and Sciences gave her a special Oscar for "the most outstanding juvenile performance during 1960" — the last of its kind ever presented — in recognition of her star-making turn in the Disney film Pollyanna. It was originally presented by Shirley Temple to Annette Funicello, and then forwarded to Mills at her boarding school. Unfortunately, it was stolen from her London home in the late 1980s when she came to the United States to shoot the television series Good Morning, Miss Bliss. A surprised Mills, who is now 75, is gifted by Academy president David Rubin with a replacement Oscar.