Disneyland holds a special ceremony commemorating the 100th birthday of 

Walt at 11:30 a.m. in the Plaza Hub at the end of Main Street. Hosted by Disneyland 

Resort President Cynthia Harriss, the program pays homage to Mr. Disney in story and song with special 

appearances by legendary Disney Imagineer John Hench and Academy Award-winning composer Richard 

M. Sherman. 

               2001:

                              Wednesday

                              Disney fans around the world celebrate Walt Disney's 

                              100th birthday!

 Walt Disney's Hometown 100th Birthday Celebration (in

Marceline, Missouri) takes place with a variety of activities. The town's Uptown

 Theatre hosts free showings of the two Disney movies that first premiered in Marceline, "The Great

 Locomotive Chase" and "The Spirit of Mickey." In the early evening, sparkling fruit juice sales begin on Main 

Street USA in front of Ripley Park where the city will toast Disney during a special ceremony.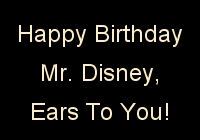 2005:

Nominations for the 33rd Annual Annie Awards are announced. They include Chicken Little

 (for Best Animated Feature), and Kronk's New Groove, Lilo & Stitch 2: Stitch Has A Glitch, and Tarzan II (all for

 Best Home Entertainment Production). Winners will be announced in 
February 2006
.
Broadcaster and newsman George Walsh passes away at age 88 in California.

 Known as the voice of TV's Gunsmoke, Walsh was also an interviewer, sports reporter, newscaster and

 announcer for a number of shows. Upon retirement, he worked at Disneyland's Candy Palace and lent his voice

to two now-retired attractions - Flight to the Moon and Mission to Mars.

1945:

Walt Disney writes his annual birthday letter to his younger sister Ruth (whose

 birthday is 
December 6
). He writes of family and his next feature 
Make Mine Music
. He also describes
 the work being done on "Uncle Remus" and other stories that are being prepared for nearly 5 years ahead (like

 Peter Pan). Enclosed is a gift of a check because he has "no more notion about what I should

send you than I had this time last year."

1949:

Walt Disney pens his annual birthday letter to his sister Ruth. He begins with the 

words "here is your birthday check and I hope you will go out and buy yourself something very special 

with it." Walt describes his family's recent summer trip to Europe and his upcoming release Treasure Island. 

1951:

Walt writes his traditional birthday letter to sister Ruth. He describes his Christmas

 television show, his current feature Robin Hood, and his newest production Peter Pan. Walt also writes of his two

 daughters Diane and Sharon. He states: "I always tell myself I'm going to buy you something for your birthday, but

 when I get right down to the matter of color, size, and what, I'm bewildered and stuck. So here it is, the check -

 now you go out and buy something that you'll like."

1955:

Mickey Mouse Club airs on ABC-TV. Today is Fun With Music Day.

Film composer & music producer Richard Gibbs is born in Bay Village, Ohio. His Disney credits include the re-make of That Darn Cat (1997), 10 Things I Hate About You (1999), 101 Dalmatians II: Patch's London Adventure (2003), and Disney Channel's Adventures in Babysitting (2016).

1956:

Big brother Walt writes his sister Ruth her annual birthday letter. He describes

 his strenuous work schedule, his daughter Sharon and her modeling career, and his other daughter

 Diane and her growing family. As usual a check is enclosed for Ruth to spend on "some feminine luxury." 

1965:

Singer-songwriter John Rzeznik (frontman of the Goo-Goo Dolls) is born in Buffalo, New

York. He composed and performed two songs; "I'm Still Here (Jim's Theme)" and "Always Know Where You Are," as the voice of Jim Hawkins for the 2002 Disney animated feature Treasure Planet. He also performed on the 2002 Walt Disney World Christmas Day Parade.

1966:

An ill Walt Disney celebrates - what will be his last birthday - in a California hospital.

1971:

The NBC-TV series The Wonderful World of Disney airs 

part 2 of "The Dingaling Lynx Lefty."

Actress Kali Rocha is born in Memphis, Tennessee. She is known for portraying Karen Rooney, the mother of four Rooney children and school's vice principal, in the Disney Channel sitcom, Liv and Maddie. Rocha also appeared in 8 episodes of Grey's Anatomy and a single episode of Modern Family.

1981:

The television series Walt Disney airs "A Magical Disney Christmas."

1985:

The city of Anaheim salutes Disneyland (on the birthday of Walt Disney) with a

world-record release of one million balloons over the park. The 70,000 pounds of

 helium used is enough to lift 190 people into the air.

1986:

Walt Disney Recognition Day is officially celebrated in the United States. 

1987:

The Disney Channel airs The Christmas Visitor.

1988:

Engineer and logistical planner Joe Potter passes away in Orlando, Florida. One time 

Governor of the Panama Canal Zone, Potter served as vice president for EPCOT Planning and senior vice 

president of Walt Disney World Company. He will be named a 
Disney Legend
 in 1996.
1996:

Walt Disney Animation Canada Inc. officially opens at 650 West Georgia Street,

 with a grand opening for the arts, entertainment, film and animation

 communities in Vancouver.

2003:

Roy Disney and Stanley Gold officially launch their SaveDisney website.

The 2003 Teddy Bear & Doll Weekend kicks off at Epcot.

The Disney/Pixar feature Alla Ricerca Di Nemo premiers in Italy.

New York's Museum of Modern Art hosts a lecture about Disney Legend

 Mary Blair by animation filmmaker John Canemaker, author of The Art and Flair

 of Mary Blair. The 2-day presentation also includes a 35mm screening of Disney's Alice in Wonderland

 and a book signing.

Disney Channel debuts the That's So Raven episode "Escape Claus" (Raven's

 first holiday episode). Actor Ernie Sabella (the voice of The Lion King's Pumbaa) guest stars as

 teacher Mr. Petrachelli.

2004:

Singer-songwriter Elton John and composer-conductor John Williams are among

six who receive Kennedy Center Honors for 2004 during a ceremony in 

Washington, D.C. John's Disney credits include The Lion King and Aida and Williams' music can be

heard in the Star Wars park attractions.

T
he Walt Disney Company inducts the 
2001
 class of Disney Legends.
2006:

Pirates Of The Caribbean - Dead Man's Chest makes its Disney DVD debut.

The Advertising Council, in partnership with the National Highway Traffic Safety Administration and Buena Vista Worldwide Home Entertainment, announces the launch of new public service advertisements designed to encourage all Americans to wear seat belts. The seat belt education campaign will prominently feature characters from Disney/Pixar's Cars.

Hollywood records releases Apocalypto: Original Score, the soundtrack to the 2006 film of the same name (co-produced, co-written, and directed by Mel Gibson). The music has been composed by James Horner and features vocals by Pakistani singer Rahat Nusrat Fateh Ali Khan and English musician Terry Edwards. 

Disney releases High Schol Musical: The Remix Edition.

Actress/singer Ava Kolker is born in California. She is best known for her roles on the Disney Channel series Girl Meets World (2014–2017) as Ava Morgenstern and Sydney to the Max (2019–present) as Olive Rozalski. In 2018 she appeared on an episode of Agents of S.H.I.E.L.D.


The life and career of Walt Disney is celebrated with a tribute by the Academy of Motion Picture Arts and Sciences in the Academy's

Samuel Goldwyn Theater. Participants for the Academy's Centennial Tribute to Walt include his daughter Diane Disney Miller and the three surviving members of Disney's "
Nine Old Men
."
In Florida, the Sorcerer's Hat, Disney-MGM Studios' main icon, is dedicated to commemorate Walt Disney's 100th birthday during the 100 Years of Magic Press event.

A giant showpiece based on the hat worn by Mickey Mouse as the sorcerer's apprentice in Fantasia, the hat sits on a foundation made from enough concrete to cover a football field. Characters, guests and cast members 

all gather in front of the Sorcerer's Hat to cut a giant 25-by-17-foot cake (made up of 100 sheet cakes) to celebrate

Walt Disney's 100th birthday.

Although opened since September, Michael Eisner helps dedicate the park's newest attraction, 

Walt Disney: One Man's Dream. 

At Disneyland Paris, guests are greeted by 100 Disney characters in

honor of Walt's birthday. A one-day-only fireworks display over the

castle tops off the day of special events.


Some of Walt Disney's 

ancestors - in particular

Arundel Elias Disney -

were from 

Gowran, a village and 

former town in County 

Kilkenny, Ireland. Gowran 

is internationally known 

for its picturesque 

racecourse, 

Gowran Park.

1782:

Martin Van Buren, the eighth United States President, is

 born in Kinderhook, New York. He is the first president to

 be born an American citizen, as his predecessors were born before the

 American Revolution. Visit him and all the U.S. Chief Executives at Disney

 World's The Hall of Presidents.

1991:

Disney's animated feature Beauty and the Beast is released in Cambodia.

1930:

Disney's Mickey Mouse cartoon Pioneer Days is released. While out West, Mickey and 

Minnie are attacked by Indians! Minnie is captured and when Mickey tries to rescue her ... he's captured too. 

But Minnie escapes and winds up rescuing Mickey.

"As to the presidency, the two happiest days of my life were those of my entrance upon the office and my surrender of it." -Martin Van Buren 

1941:

Disney's Donald Duck cartoon Chef Donald, directed by Jack King, is released. When 

Donald decides to try cooking along with a radio show ... he accidentally uses rubber cement to make waffles!

1943:

Walt Disney receives a birthday greeting (in the form of a letter dated December 5) 

from Clarence Nash, the voice of Donald Duck. Nash has written from Wichita, Kansas, as he is

on the road performing live with a Donald Duck ventriloquist figure in a show that includes duck cartoons. 

(Throughout the 1930s-1940s it was common for Disney to put "Ducky" Nash on tour.)

His letter to Walt includes these words:

You know doubt have had many felicitations on this day—I too would like to add mine—so "Many Happy

Returns of the Day." Donald and I have been knocking around a lot—it is work, especially the way travel is today.

We have been doing pretty well too. In Lawton Okla., they had to turn away about two hundred school children. 

"Hope this finds you feeling better. This is your day and Edna and I send our love not only for today but always." 

-Roy Disney's wire from New York to his brother Walt at St. Joseph's Hospital in Burbank

1999:

T
ickets for Disney's Broadway production of 
Aida
 go on sale at the Palace Theatre in 
New York City. (Previews begin February 25, 2000 with an official premiere slated for March 23.)

1901:

Sunday 

Walter Elias Disney is born to Flora and Elias Disney in their 

two-story cottage at 1249 Tripp Avenue in a newly developed 

section of Chicago, Illinois. (In 1909, the address of the house will change 

to 2156 North Tripp Avenue.) The fourth Disney son is named to honor the family's 

pastor and friend Walter Parr, a preacher at St. Paul Congregational Church 

(located one block east and one block north of the Disney house). The pastor, in 

turn, will later name his son Elias, after Walt's father. (The Disney family will move 

to Missouri in April 1906 where Walt and his brothers and sister will grow up on a 

farm in Marceline, but the family will later return to Chicago in 1917.)

"Without Joe Potter there would be no Walt Disney World today." -Dick Nunis (head of all Walt Disney parks and attractions)

"December 5, 1986, marks the 85th anniversary of the birth of Walt Disney. "Uncle Walt,'' as he was affectionately 

known to his moviemaking colleagues in Hollywood, was just that to several generations of American families: a 

warm, generous uncle who sat us on his knee and told and retold us stories of comedy, imagination, and 

adventure. He was a superb animator, a technical wizard, an astute manager and businessman, but above all he 

was a man who never lost touch with his child's heart and sense of wonder." -U.S. President Ronald Reagan

2011:

Nominations for the 39th Annual Annie Awards are announced by the International

 Animated Film Society, ASIFA-Hollywood. Cars 2 is nominated for Best Animated Feature while

 both Disney Jake and the Never Land Pirates and Disney Mickey Mouse Clubhouse are nominated for Best

 Animated Television Production - Preschool. In the Animated Effects in an Animated Production category, Dan

 Lund (for Winnie The Pooh) and Jon Reisch (for Cars 2) are both nominated. Chad Sellers, Rebecca Wilson

 Bresee and Tony Smeed are each nominated for Character Animation in a Television Production for their work

 on Prep & Landing: Naughty vs. Nice. Winnie the Pooh picks up two more nominations when Andreas Deja and

 Mark Henn are each chosen for Character Animation in a Feature Production. Award recipients will claim their

 trophies at the 39th Annual Annie Awards scheduled for Saturday, 
February 4, 2012
 at UCLA's Royce Hall in
 Los Angeles, California.

2012:

Dave Brubeck, a giant of American music who was largely responsible for turning 

modern jazz into pop music, passes away a day short of his 
92nd birthday
. The famed, 
bespectacled pianist dies of heart failure while on his way to a regular doctor's appointment near his longtime 

home of Wilton, Connecticut. In 
December 1957
 he released the theme album "Dave Digs Disney," a collection
of 8 well-known Disney songs, on the Columbia/Legacy label.

Dancing with the Stars professional dancers Chelsie Hightower and Tony Dovolani 

perform a ceremonial "first dance" inside the new Be Our Guest Restaurant in the 

New Fantasyland area (which will officially open to guests the following day) of

Disney World's Magic Kingdom. Also taking part in the 2-day opening celebration is

Who Wants to Be a Millionaire? host Meredith Vieira.

Later in the evening, Disney World debuts a flying, fire-breathing dragon over the

skies of the Magic Kingdom to help celebrate the new Fantasyland. The robotic beast 

appears to fly straight out of fantasy into reality!

Nominations for the 55th Annual Grammy Awards are announced. Among the nominees-

-Best Musical Theater Album: Newsies – Original Broadway Cast Recording

-Best Compilation Soundtrack for Visual Media: The Muppets – Various Artists

-Best Song Written for Visual Media: "Man or Muppet" (from The Muppets)

Winners will be announced February 10, 2013.

2013:

The new owners of the home on Chicago's Northwest Side where Walt Disney was 

born, join a team of preservationists and celebrators at the home to launch a 

Kickstarter campaign with hopes of raising $500,000 to fund renovations.

The team wants to bring the home to landmark status.

2016:

In celebration of the upcoming release of the film, Rogue One: A Star Wars Story, 400

Disney Parks Blog readers gather at Epcot to witness the transformation of the park's

Spaceship Earth into the Death Star. A temporary change, the after-hours event informs

attendees about the latest Star Wars offerings.

2014:

The Nominations for the 57th Annual Grammy Awards are announced. Among the nominees-

-Best Musical Theater Album: Aladdin

-Best Compilation Soundtrack for Visual Media: Frozen and Guardians of the Galaxy: Awesome Mix Vol. 1

-Best Score Soundtrack for Visual Media: Frozen – Christophe Beck, composer and

Saving Mr. Banks – Thomas Newman, composer

-Best Song Written for Visual Media: "Let It Go" (from Frozen) – Kristen Anderson-Lopez and Robert Lopez, songwriters

Winners will be announced February 8, 2015.

Penn Zero: Part-Time Hero, an animated television series produced by Disney Television Animation for Disney XD, debuts as a preview. (It will officially premiere February 13, 2015.) The series follows the adventures of Penn Zero (voiced by Thomas Middleditch), who unexpectedly inherits the job of his parents: being a part-time hero.

2019:

Same Time, Next Christmas, a holiday movie from Freeform Studios premieres on ABC.

Actress Lea Michele plays Olivia Anderson, a successful young woman who spends every Christmas vacationing with her parents at a resort in Hawai'i, which just happens to be the fateful spot where she met her childhood sweetheart, Jeff, years earlier. When the pair is reunited as adults the spark between them is rekindled, but circumstances—including Olivia's new boyfriend, Gregg—threaten to keep them apart.

Star Wars: Rise of the Resistance, an attraction at Star Wars: Galaxy's Edge at Disney's Hollywood Studios in Disney World, has an official opening. The attraction, a combined trackless 

dark ride, walk-through, motion simulator, and drop ride system, puts guests into the middle of an altercation between the Resistance and the First Order. A media event for the attraction at Disney's Hollywood Studios was held from December 3–4, 2019 in which guests attending the event were able to experience the attraction. (A similar version is scheduled to open at Disneyland in January 2020.)

1932:

Richard Wayne Penniman, better known as singer-songwriter & musician Little Richard, is born in Macon, Georgia. An influential figure in popular music, Richard's most celebrated work dates from the mid-1950s, when his dynamic music and charismatic showmanship laid the foundation for rock and roll. In the 1980's, Disney selected Little Richard's hit song "Tutti Fruitti" as one of their DTV interstitials, pairing popular songs with looped animation from classic Disney shorts to create a music video. One in particular centered on Donald Duck as the lyrics to the song mention a girl named Daisy. "Tutti Fruitti" was also featured in the 1987 Hyperion Pictures animated film, The Brave Little Toaster, which was distributed by Disney. In 1986, Little Richard starred in the Touchstone Pictures comedy Down and Out in Beverly Hills, playing musician Orvis Goodnight. He also had roles in the 1990 star-studded TV movie Mother Goose Rock 'n' Rhyme as Old King Cole (which premiered on Disney Channel) and the 1999 comedy-drama Mystery Alaska.

1995:

Nixon: Original Motion Picture Soundtrack, featuring the music of John Williams, is released. Nixon (directed by Oliver Stone) will be released December 22. The film will be nominated for four Academy Awards, including one for Best Original Score.

1976:

Actress Amy Acker is born in Dallas, Texas. She portrayed Kelly Peyton on ABC's action drama series Alias (2005–2006), and made guest appearances on Once Upon a Time, Agents of S.H.I.E.L.D., and

Grey's Anatomy.